Expert circuit board level repairs
At iMobile Repairs Computers & Electronics, we offer much more than screen repair. Our expert techs can go further for you and do the circuit board soldering as well.
Our circuit board level repairs include
Micro soldering repair
Printed circuit board repair
Charging connection repair and soldering
Dock connector repair and soldering
Charge port replacement - iPads, notebooks, and phones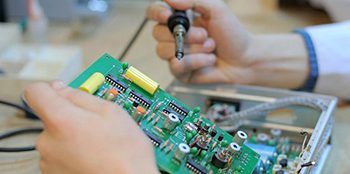 A wealth of electronic knowledge
With over 20 years of experience working in electronics and with a technical diploma from DeVry, our Certified Technicians can handle your difficult repair jobs.
Whether it's your phone, tablet, or PC, we can repair so much more for a minimal cost. Anything that needs soldered or replaced – we can do it!